Korean spicy chicken stew (Dak Bokkeum Tang)
Korean Dak Bokkeum Tang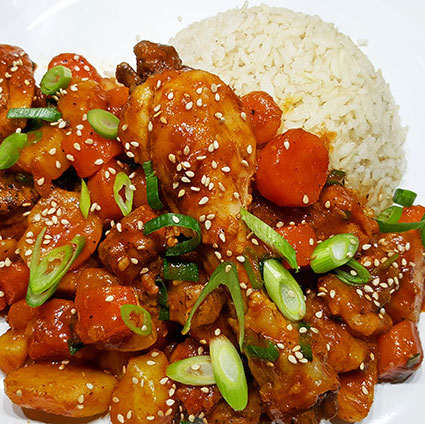 Ingredients
About 1100 grams boneless chicken, cut into small pieces (excess fat removed) I usually use chicken wings, cut in half if desired
170 grams of potatoes cut into large pieces, or small potatoes (potatoes in pieces take up much more of the sauce and really fall apart in the sauce and give the dish a little more sweet taste, we like this better than with potatoes)
1/2 medium onion cut into large chunks
2 carrots cut into large chunks (or baby carrots)
2 spring onions
Sauce
3 tablespoons gochugaru (chili flakes)
3 tablespoons sugar
2 tablespoons gochujang (fermented chili paste, unfortunately there is no alternative for this)
1/2 tablespoon doenjang (fermented soybeans, similar to miso)
2 tablespoons rice wine
4 tablespoons oyster sauce or soy sauce
1 tablespoon minced garlic
1 teaspoon grated ginger
black pepper to taste
1/4 cup water or chicken stock
1 tablespoon sesame oil
1 teaspoon sesame seeds
Preparation method
Combine all sauce ingredients except sesame oil and seeds and mix well.
Rinse the chicken pieces and pat them dry with kitchen paper.
Press the "Sauté" button on the Instant Pot. When the pan is hot, add 1 tablespoon of oil. Divide the chicken into 2 batches and sear the pieces until the outside is lightly browned.
Place all the chicken pieces in the pan and add the potatoes, onion and carrots. Pour over the sauce and mix well to coat the chicken and vegetables evenly.
Close the lid tightly and set the valve to Sealing. Press the "Pressure cook" function (or if your Instant Pot has it, "Poultry") and use the "+" or "-" button to set the time to 10 minutes. When the program is finished, the Instant Pot will automatically go into "Keep Warm" mode and the timer will start counting up. Turn the pressure valve to "release" to release the pressure. Open the lid.
Stir in the spring onion, sesame oil and sesame seeds. If you prefer the sauce thicker, remove the meat and vegetables from the pressure cooker, turn the Instant Pot Sauté function back on and reduce the sauce to the desired level.
Powerblog - sign up for newsletter
Would you like more of this kind of useful information? Sign up for our newsletter for the latest news, useful tips and advice, delicious recipes, and special offers. We email at most once a week.