Crackling Chile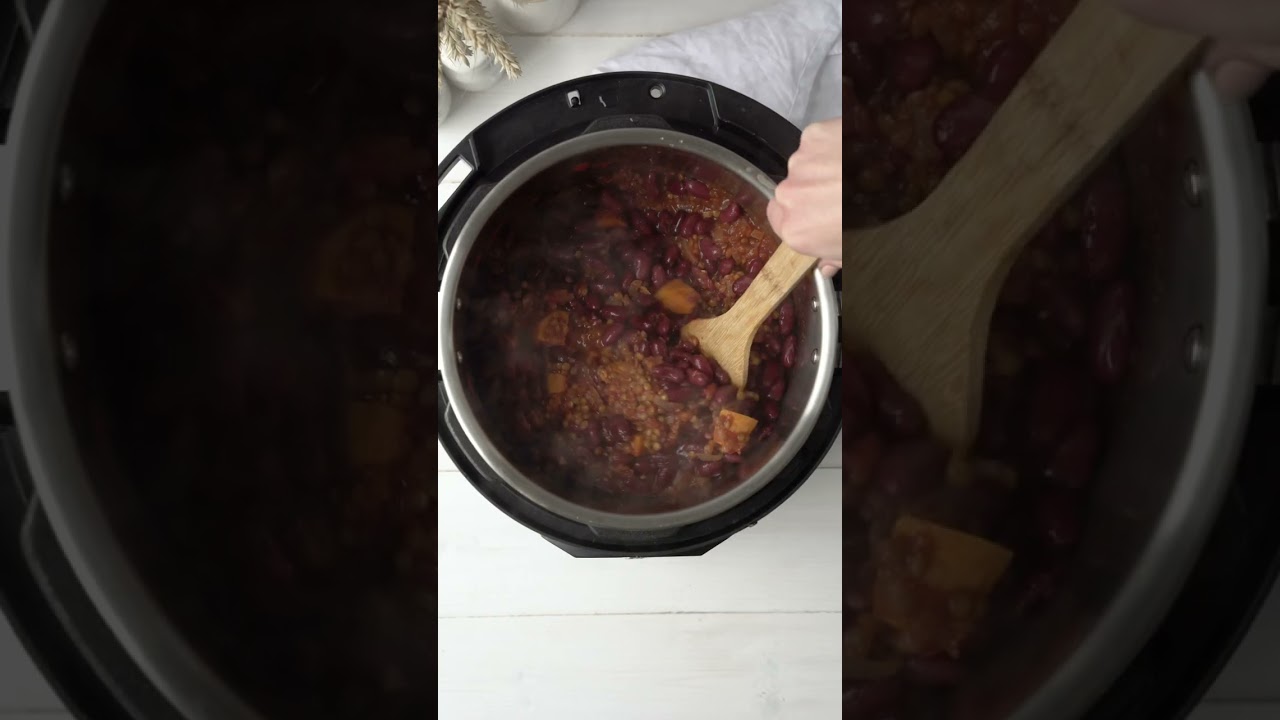 People : 6-8
Preparation : 10 minutes
Total time : 20 minutes
About the dish
This incredibly easy chili comes together in just 18 minutes, with just 10 minutes of prep! It's a weeknight winner to keep in your back pocket when you need a delicious, hearty, and accidentally vegan meal in less than 20 minutes. Since this is a dump-and-go recipe, you'll want to get our secret ingredient, chipotle paste. It can be found in numerous supermarkets and online and adds depth and flavor to this dish. Before the chili gets a quick twist in the pot, make our easy pickled red onion to serve. It adds brightness and acidity to the dish - yum yum
Serve your chili with or without rice, with nacho dippers, in wraps... the possibilities are endless. In addition to some rice or nachos, this meal will comfortably serve a family of 4, with a generous amount of leftovers ready to pop in the freezer. We turned our leftovers into a cheesy taco. Do you want to level up? Add a crispy egg cooked in a bit of oil, then add a bit of chipotle paste to the pan to baste the egg with the chili oil to really take things to the next level.
Frequently Asked Questions
What is chipotle paste? Chipotle pasta is a paste made from smoked jalapeños
Can I skip the pickled red onion? Of course - add whatever toppings you like. Make it your own
Can I add meat? Of course, squeeze some sausages from their skins and fry them in oil in the pan until browned. Add remaining ingredients as directed. You can also dice some chorizo ​​or bacon and add it to the lentils and fry as usual.
Ingredients
Pickle
1 red onion
1 lime
Salty
chili pepper
1 can of tomatoes
1 onion, finely chopped
3 cloves garlic, finely grated
2 tbsp chipotle paste (replace with 1 fresh chilli pepper or 1 tsp chilli flakes)
1 tablespoon aged el paso taco seasoning
250 grams of brown lentils
1 large sweet potato, peeled and cut into 2cm cubes
900 ml hot chicken stock
2 cans black beans or kidney beans, drained and rinsed
Salt and pepper to taste
Rice
220 grams of rice
250 ml of water
½ tsp salt
To serve
These suggestions are here for inspiration. Use as much or as little as you like
Coconut yogurt or sour cream
Coriander
Nachos
Cheese
Preparation
Start by slicing your pickle and red onion into thin slices and placing them in a bowl or jar. Add a pinch of salt and squeeze over the juice of the lime. Toss everything together so that the lime covers the onion and pickles and set aside to pickle.
Next, make the chili.
layer the canned tomatoes, onion, garlic, chipotle pasta, taco seasoning, lentils, sweet potato, and chicken stock in the inner pot. Don't stir!
Place a long-legged coaster in the instant pot. Put the rice, water and salt in a suitable bowl and place on the trivet.
Secure the lid and select Speed ​​Cook on High. Set the time to 5 minutes and press start.
When the cooking program is over, release the pressure naturally for 8 minutes and then quickly release the remaining pressure.
Open the lid and take out the rice. Loosen the rice with a fork
Remove the coaster, add the rinsed and drained beans to the chilli and stir well. Season the chili pepper with salt and pepper
Spread the chili over the rice and garnish with pickled red onions. Serve with your choice of toppings.
Powerblog - sign up for newsletter
Would you like more of this kind of useful information? Sign up for our newsletter for the latest news, useful tips and advice, delicious recipes, and special offers. We email at most once a week.