In An Instant Part 10 - Vegan 'Cheesy' Pasta With Healthy Living James | Instant Brands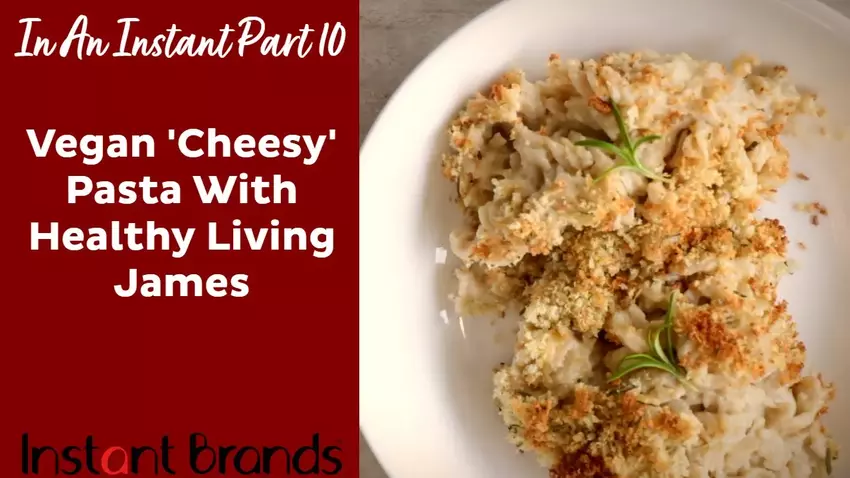 Kook deze week samen met James terwijl hij een eenpans Vegan 'Cheesy' Pasta Bake maakt die glutenvrij, zuivelvrij en gemaakt is in de Instant Pot Pro Crisp & Air Fryer. Dit eenpanswonder begint met pressure cooking, voordat je snel het deksel verwisselt om vervolgens de bovenkant te grillen. Zo snel en zo gemakkelijk - en aan het einde maar één pot om af te wassen - win win!
INGREDIËNTEN:
500g pasta, ik gebruikte glutenvrij
1 liter water • Royale snuf zout
Paneermeel
2 sneetjes brood, ik heb glutenvrij gebruikt
1 takje rozemarijn
1-2 takjes tijm
Snufje zout
Snufje knoflookkorrels
Cashew saus
100g cashewnoten
2 teentjes knoflook
2 tl Dijon-mosterd
1 el olijfolie
125 ml amandelmelk
Zout peper
100g geraspte veganistische kaas
INSTRUCTIES:
Voeg de pasta, het water en het zout toe aan de pan en roer.
Selecteer Snelkoken op de Instant Pot en stel de tijd in op 3 minuten.
Doe ondertussen het brood, de rozemarijn, de tijm, het zout en de knoflookkorrels in een
blender en maal tot paneermeel. Verwijder en plaats in een kom en zet opzij. 4. Voeg nu in een lege blender de cashewnoten, knoflookteentjes, dijonmosterd, olijfolie, amandelmelk, snufje zout en peper toe en mix tot een gladde massa.
Als het kookprogramma klaar is, verwijder je de deksel en roer je de cashewsaus en de geraspte kaas erdoor.
Maak de pittige pasta plat, bestrooi met het paneermeel en doe het deksel op de Air fryer en zet het vast op de pan.
Selecteer Grill en stel de temperatuur in op 232°C en de tijd op 6 minuten. 8. Kook tot ze krokant zijn en geniet ervan!
Powerblog - sign up for newsletter
Would you like more of this kind of useful information? Sign up for our newsletter for the latest news, useful tips and advice, delicious recipes, and special offers. We email at most once a week.