In An Instant Part 9: Air Fried Kip Met @SchoolOfWok | Instant Brands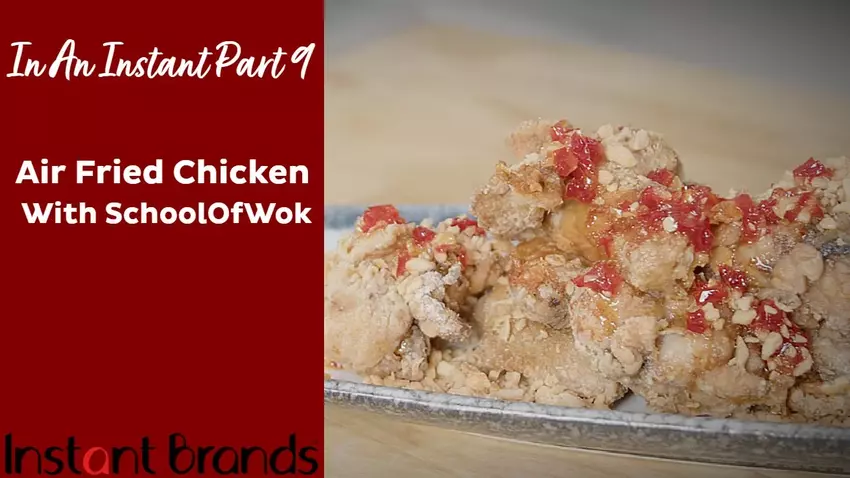 Chef-kok Jeremy Pang is terug met een klassiek Chinees gefrituurd gerecht, air fried tot in de perfectie in onze Instant Vortex Air Fryer - Five Spice Fried Chicken Wings, gegarneerd met knapperige knoflook, citroengras en zoete chilisaus.
Verrukkelijk, maar calorievriendelijk! - Deze kippenvleugels zijn weelderig! Knapperig en lekker, maar volledig schuldvrij. Geen tonnen olie nodig - gewoon magie uit de airfryer en de perfecte afwerking in Jeremy's beroemde Wok!
Wie heeft Takeaways nodig als je een Fakeaway om je vingers bij af te likken in het comfort van je eigen huis en klaar in 30 minuten? Serveer dit beroemde Chinese recept met in de air fried dikke chips met zout en peper voor de ultieme Fakeaway-avond.
INGREDIËNTEN
6 kippenvleugels, gehalveerd
1 bol knoflook
3 citroengras, fijngehakt
Snufje zout, witte peper & suiker (voor het bakken van knoflook en citroengras)
De marinade
½ tl vijfkruiden
¼ theelepel zout
¼ tl witte peper
1 tl sesamolie
1 el Shaoxing rijstwijn
Het beslag:
100g maïsmeel
1 ½ tl natriumbicarbonaat
Snelle zoete chilisaus:
3-4 teentjes knoflook
4-5 grote rode pepers
1 eetlepel premium lichte sojasaus
5-6 eetlepels rijstazijn
120g suiker
2 el water
INSTRUCTIES:
Meng de marinade-ingrediënten met de kippenvleugels. Giet vervolgens de ingrediënten voor het beslag erover en meng goed.
Plaats de vleugels in de Vortex Air Fryer met ruimte tussen elk stuk. Spray de vleugels in met olie en selecteer Air Fry en stel de temperatuur in op 200°C en de tijd op 25 minuten.
Geef de vleugels een draai wanneer u wordt gevraagd om voedsel om te draaien.
Terwijl de vleugels aan het air fryen zijn, kook je de ingrediënten van de zoete chilisaus tot een licht lopende, jamachtige textuur in een pan met sauté op je Instant Pot.
Fruit vervolgens in een wok de knoflook en het citroengras krokant en goudbruin en zeef door een zeef op keukenpapier.
Kruid de wok ingrediënten en als de vleugels gaar zijn, schep ze door de gebakken wokmix en serveer met de zoete chili dipsaus.
Powerblog - sign up for newsletter
Would you like more of this kind of useful information? Sign up for our newsletter for the latest news, useful tips and advice, delicious recipes, and special offers. We email at most once a week.