In An Instant Part 7 - Kerst Special! ????Met Kerry Whelpdale | Instant Brands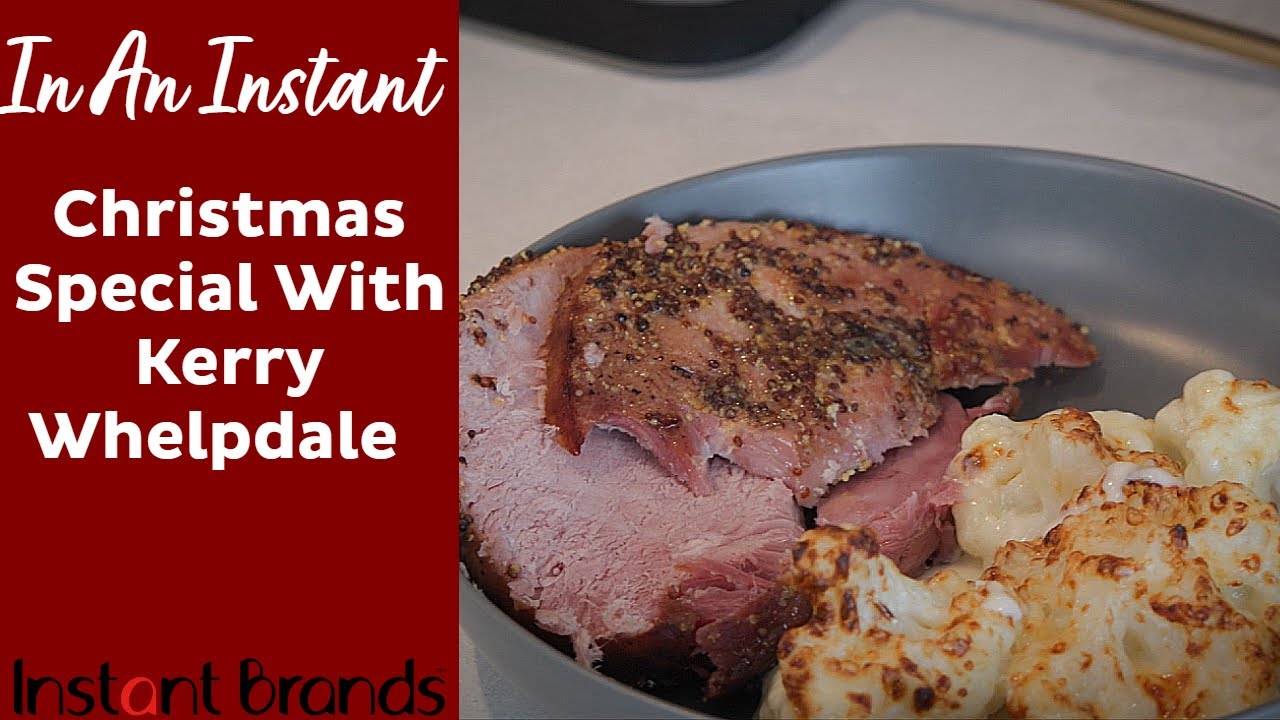 Weer een geweldig recept om thuis te proberen! Deze week brengen we je niet één, maar twee van @KerryWhelpdale's favoriete familie kerstgerechten!!
Een in cola gedrenkte achterham, gevolgd door bloemkoolkaas, allemaal gemaakt in de Instant Pot Duo Crisp met Ultimate Lid.
recept(en):
Met cola doordrenkte achterham:
Ingredienten:
1,5 kg ongerookte achterham zonder been
2-3L Volle cola
Gelijke delen Ahornsiroop en Volkoren Mosterd
2 x witte ui, gesnipperd
2 x Selderijstengels, fijngehakt
4-5 x Wortelen, gehakt.
Bereidingswijze:
Doe de helft van de gesnipperde ui, bleekselderij en wortel in de kookmand en leg het achterhamgewricht erop.
Doe de overgebleven in blokjes gesneden groenten in de mand en doe ze in de binnenpan.
Giet de volle cola in de pan tot aan de maximale vullijn, of tot de joint volledig onder water staat (afhankelijk van wat het eerst komt!)
Zet het snelkookdeksel op zijn plaats, vergrendel het deksel en selecteer Snelkoken. Stel de tijd in op 40 minuten met een snelle drukontlasting.
Terwijl de achterham kookt, bereid je je glazuur voor door de ahornsiroop en volkoren mosterd in een kleine kom te combineren.
Wanneer het snelkookprogramma is voltooid, ontgrendelt u het deksel en laat u de vloeistof weglopen.
Voeg het glazuur toe aan de bovenkant van de achterham, verwijder het snelkookdeksel en sluit het deksel weer.
Selecteer Air Fry en stel de tijd in op 200°C en de tijd op 5 minuten.
Als de achterham gaar is, laat je hem even rusten.
Bloemkool kaas
Ingredienten:
1 Bloemkool, in roosjes gebroken
50g Boter
4 eetlepels gewone bloem
2 tl Mosterdpoeder
500 ml melk
100 g belegen cheddarkaas, geraspt
Bereidingswijze
Doe de bloemkoolroosjes met 500 ml water in een schone binnenpot en sluit de deksel.
Selecteer Snelkoken en stel de tijd in op 1 minuut met een snelle drukontlasting.
Als de bloemkool gaar is, haal hem dan uit de binnenpan en laat het water weglopen.
Selecteer Sauteren en voeg de boter en bloem toe aan de binnenpan en roer om te combineren. Voeg beetje bij beetje de melk toe en blijf kloppen tot een gladde saus.
Voeg de kaas toe en roer om te combineren en doe de gekookte bloemkoolroosjes in de saus.
Verwijder het snelkookdeksel en vergrendel het deksel.
Selecteer Grill en stel de temperatuur in op 204°C en de tijd op 4min.
Zodra de bloemkaas gegrild en krokant bovenop is, serveer en geniet ervan!
Product gebruikt: https://www.instantpot.nl/multicookers/instant-pot-duo-crisp-ultimate/
Powerblog - sign up for newsletter
Would you like more of this kind of useful information? Sign up for our newsletter for the latest news, useful tips and advice, delicious recipes, and special offers. We email at most once a week.