In An Instant Part 3 - Zoete Aardappel En Pompoensoep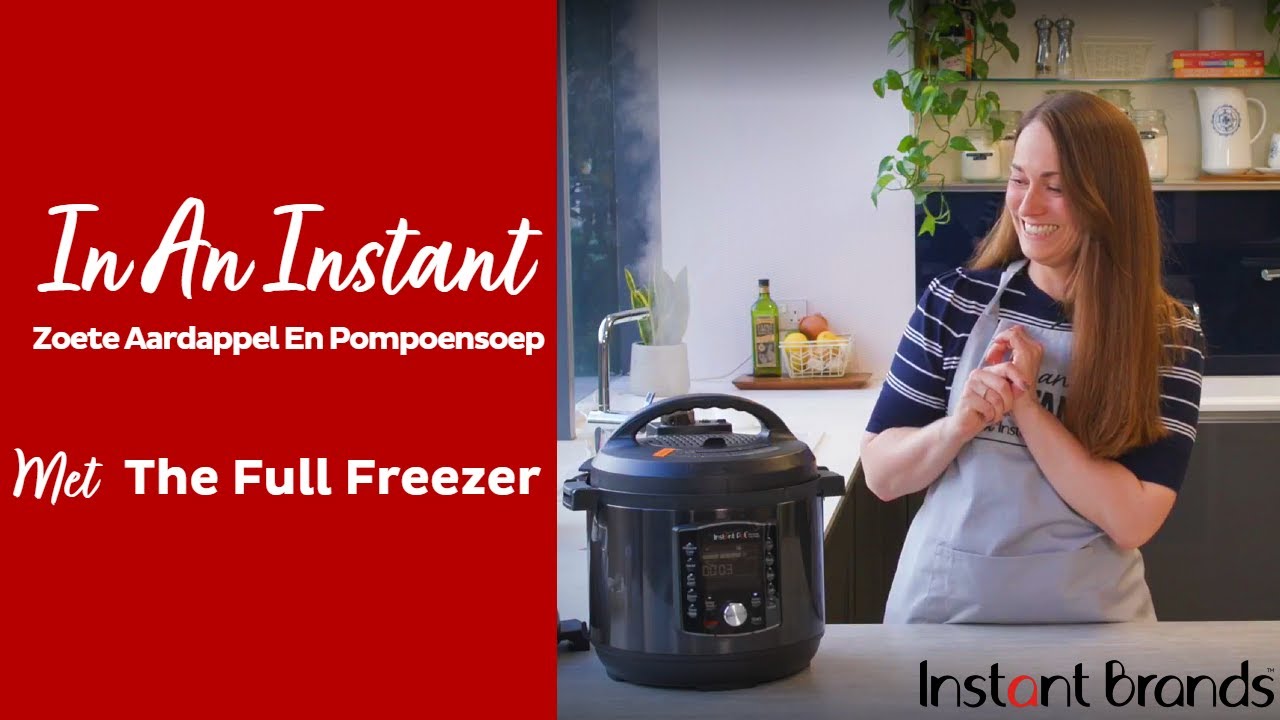 In deze aflevering van In An instant laat The Full Freezer zien hoe je heerlijke zoete aardappels en pompoensoep vanuit de vriezer kan maken!
Recept 2 personen
Ingrediënten
1 eetlepel (15 g) boter
150g Bevroren gesneden rode uien
300 g diepgevroren zoete aardappelblokjes
300 g diepgevroren flespompoen in blokjes
2 tl komijnzaad
1 theelepel bevroren gehakte knoflook
1 tl Bevroren gehakte gember
½ tl Chili Flakes (meer naar smaak)
300 ml groentebouillon (1/2 blokje)
Versgemalen zwarte peper en Crème Fraiche om te serveren
Serveer met stokbrood
Bereidingswijze:
Selecteer sauteren en voeg de boter toe aan de binnenpan
Voeg als het warm is de bevroren uien toe en fruit ze tot ze zacht zijn - 1-2 minuten - blijf roeren, anders verbranden ze! Voeg de zoete aardappel en pompoen toe en roer.
Voeg vervolgens de knoflook, gember, komijnzaad en chilivlokken toe en een flinke scheut bouillon om de pan te blussen.
Voeg de rest van de bouillon toe en zet de pan uit met de annuleerknop.
Doe het snelkookdeksel erop en selecteer snelkoken gedurende 8 minuten op hoog (het duurt een paar minuten om op druk te komen).
Wanneer het kookprogramma is afgelopen, laat u de druk snel ontsnappen (duurt ongeveer 2 minuten) en verwijdert u voorzichtig het deksel en gebruikt u een staafmixer om tot een gladde massa te mixen.
Laat iets afkoelen en roer er dan een eetlepel crème fraîche door. Roer door elkaar en serveer met versgemalen zwarte peper en knapperig brood.
Powerblog - sign up for newsletter
Would you like more of this kind of useful information? Sign up for our newsletter for the latest news, useful tips and advice, delicious recipes, and special offers. We email at most once a week.