Instant Pot Smeltende midden stapels voor kerstdiner
smeltende midden stapels.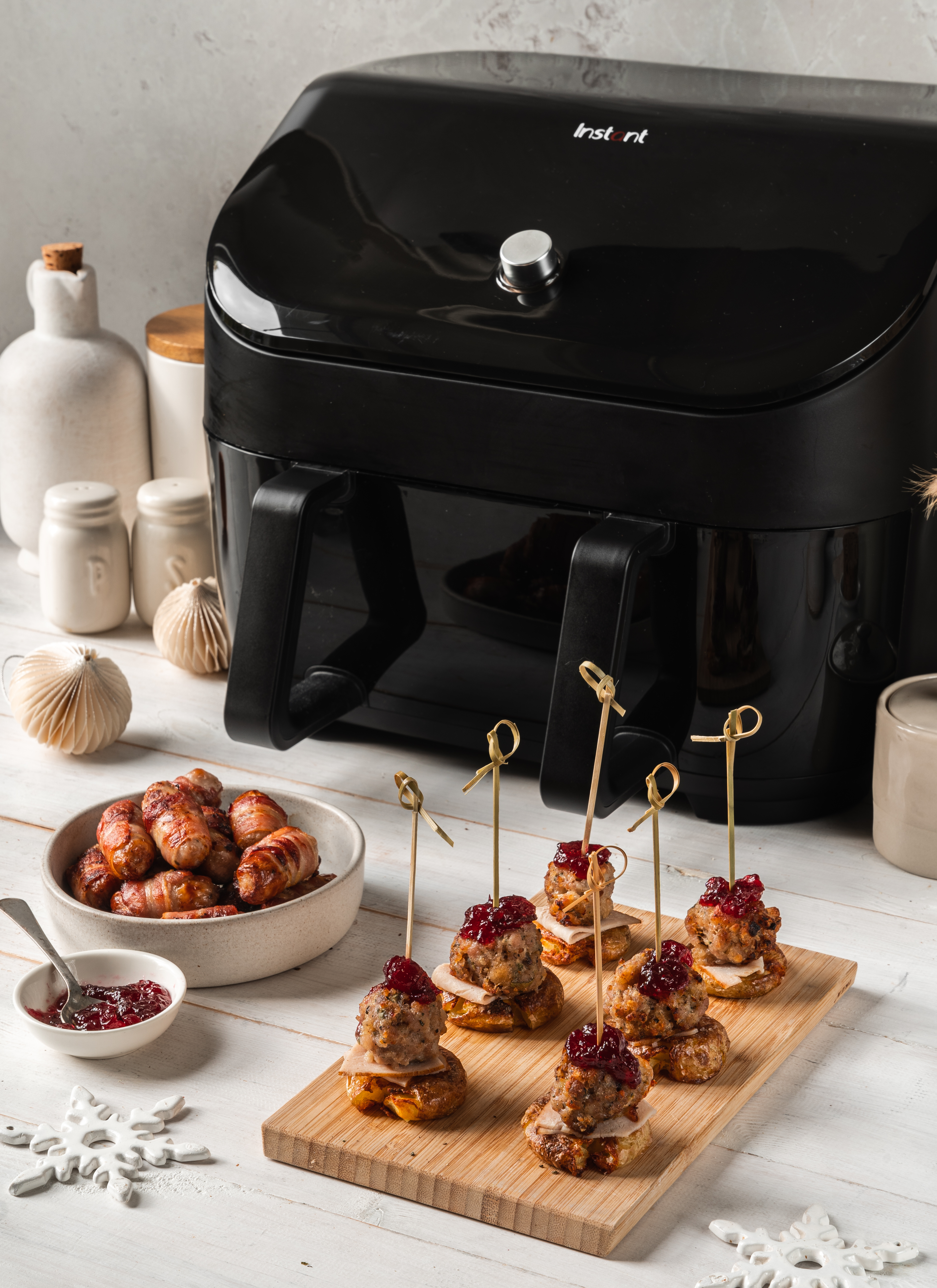 maakt 14-16 hapklare hapjes
Voorbereidingstijd: 10 minuten
Bereidingstijd: 20
Totale tijd: <30
Moeilijkheidsgraad (1-5): 1
Belangrijkste postpunten voor het

Ingrediënten:

*340g kant-en-klare varkens- of kipgehaktvulling
*50g of brie
*1kg krieltjes – allemaal even groot
*5g / klein handje salie, fijngehakt
*50-70g gesneden kalkoen
*Cranberrysaus om te serveren
*Olie, zout, peper naar behoefte
*kies een zak krieltjes die allemaal even groot zijn, zodat ze gelijkmatig garen en er uniform uitzien bij het opdienen
Methode
1. Tel de aardappelen - dit geeft aan hoeveel blokjes brie en bolletjes vulling je nodig hebt.
2. Was de aardappelen en doe ze in een pan met koud gezouten water. Kook op middelhoog vuur tot ze zacht zijn en gemakkelijk kunnen worden doorboord met een mes.
3. Terwijl de aardappelen koken, doe je de kant-en-klare vulling in een middelgrote kom en voeg je de salie toe.
4. Verdeel de brie in kleine blokjes, afhankelijk van het aantal aardappelen. Verdeel de vulling op dezelfde manier in porties en vorm er balletjes rond de individuele blokjes brie.
5. Zodra de aardappelen klaar zijn, leg je ze op een snijplank of plat oppervlak en gebruik je de bodem van een kopje of mok om de aardappelen tot ongeveer 1 cm dik te pletten. Niet te veel stampen, anders krijg je aardappelpuree.
6. Zorg ervoor dat de centrale verdeler op zijn plaats zit in de mand van je versa heteluchtfriteuse. Voeg de met kaas gevulde balletjes aan een kant van de frituurmand toe en besprenkel ze lichtjes met bakolie. Voeg de aardappelen toe aan de andere schuif van de kookmand, breng op smaak en besprenkel met olie.
7. (Laura/Sim? Controleer de formulering van de volgende technische termen) Dubbelklik op de zilveren knop om het kooksysteem met twee zones te activeren. Selecteer voor de aardappelen air fry, 195C en 20 minuten. Selecteer voor de smeltende middenballetjes grill, 205C en 4 minuten.
8. Voordat u op start drukt, drukt u op sync cook om ervoor te zorgen dat beide kanten tegelijkertijd klaar zijn met koken. Voorverwarmen is niet nodig. Pers begint.
9. Draai de aardappelen halverwege het koken om en besprenkel indien nodig met meer olie.
10. Verwijder de vullingballetjes en krokante aardappelen. Leg de krokante aardappelpuree op een serveerplank, bedek met een stukje gesneden kalkoen, de smeltende middelste balletjes en werk af met cranberrysaus. Dien onmiddellijk warm op.
11. Vooraf maken: als je op kerstdag vooruit wilt komen, kun je de aardappelen twee dagen van tevoren koken en pletten en de vullingballen maken, en dan koken wanneer ze klaar zijn om te serveren
Powerblog - sign up for newsletter
Would you like more of this kind of useful information? Sign up for our newsletter for the latest news, useful tips and advice, delicious recipes, and special offers. We email at most once a week.