Review: Instant Vortex Plus VersaZone Air Fryer
Summary & Key Features
Large capacity: It boasts a sizable 8.5L capacity across two 4.2L baskets, facilitating the preparation of family-sized meals.
Eight cooking functions: It combines air fry, bake, roast, grill, reheat, dehydrate, SyncCook, and SyncFinish, providing a versatile cooking experience.
Efficient energy use: The device consumes up to 80% less energy compared to a traditional electric oven.
VersaZone technology: Allows the flexibility to cook in a single large basket or two smaller zones with individual controls.
SyncFinish & SyncCook: Automatically finishes two different programmes at the same time & cook two portions of food with the same programmes.
EvenCrisp technology: Ensures a crispy finish on your food with 95% less oil compared to deep frying.
Intuitive interface: The in-built message bar indicates each stage of cooking and provides timely reminders.
Quick preheat: It can transition from frozen to golden in minutes.
Safety features: Equipped with Overheat Protection and an auto-off feature to enhance safety.
Easy cleanup: Non-stick cooking basket, cooking tray, and divider are all dishwasher safe.
Diverse recipes: Access to a wide array of air fryer recipes via their App or by scanning the QR code for their recipe e-book.
Instant Vortex Plus VersaZone Air Fryer Review
An Overview
As the home cooking revolution continues to sweep across our kitchens, the need for versatile, energy-efficient, and health-conscious cooking appliances has never been greater. The Instant Vortex Plus VersaZone Air Fryer fits this bill perfectly. This innovative air fryer has taken the culinary world by storm, impressing both novice and experienced cooks with its vast array of features and functionality.
The Promise of Versatility
One of the primary benefits of this air fryer is its versatility. It features eight distinct cooking modes including air fry, bake, roast, grill, reheat, dehydrate, SyncCook and SyncFinish. This diversity eliminates the need for several appliances cluttering your kitchen counter. You can make crispy French fries, bake a moist cake, roast a succulent chicken, and even dehydrate fruits—all with a single device. Wondering how versatile this airfryer is? Then check out this photo gallery!
SyncCook and SyncFinish
SyncFinish and SyncCook are innovative kitchen appliances designed to enhance efficiency and convenience in meal preparation. With SyncFinish, you can effortlessly coordinate two different cooking programs to finish simultaneously, allowing you to multitask and save valuable time in the kitchen. Whether it's a main dish and a side or two separate meals, SyncFinish ensures both are cooked to perfection at the same time, eliminating the need for constant monitoring and timing adjustments. Additionally, SyncCook enables you to effortlessly cook two portions of food with the same programs, perfect for couples or small families. Say goodbye to the hassle of cooking separate meals or adjusting recipes for different serving sizes. With SyncFinish and SyncCook, mealtime coordination becomes effortless, making your culinary experiences enjoyable and stress-free.
A Whopping Capacity
The Instant Vortex Plus VersaZone sets itself apart with a massive 8.5L capacity, split across two 4.2L baskets. Most air fryers on the market feature a capacity of around 4.5L, making this one a standout in terms of size. The dual-basket system, separated by a removable divider, enables you to cook two different dishes simultaneously—an ideal feature when catering to larger groups or varying food preferences within the family.
Energy Efficiency
In an age where conserving energy and cost-effectiveness are highly prioritized, this air fryer shines. Compared to a traditional electric oven, it uses up to 80% less energy. This is not only great for the environment but also means significant savings on your electricity bill.
Crisp and Healthy
The unique selling point of the Instant Vortex Plus VersaZone, as with all air fryers, is its ability to replicate the crispy texture of deep-fried food but with a fraction of the oil. Thanks to its EvenCrisp technology, you can enjoy your favorite dishes with up to 95% less oil, leading to healthier, guilt-free indulgences.
Smart and Intuitive
This air fryer boasts a user-friendly interface with a built-in message bar that guides you through each cooking stage. It even reminds you to turn your food, ensuring an even cook and perfect results every time. The intuitive design of this device makes it a breeze to use, even for air frying novices. The touch buttons and digital display provide clear and easy navigation through its multiple functions, allowing for seamless operation.
One noteworthy feature is the inclusion of SyncCook and SyncFinish. These functions allow you to cook different foods in the two separate baskets at varying temperatures or times, yet still have them finish cooking simultaneously. This feature is not only impressive but also incredibly practical, especially when preparing multi-component meals.
Space Saving Yet Capacious
Despite its significant 8.5-liter capacity, the Instant Vortex Plus VersaZone Air Fryer does not command a massive footprint on your countertop. This compact device is skillfully designed to maximize cooking space without occupying too much of your kitchen area.
The two 4.2-liter baskets can be used together or separately, providing versatility in the quantity and variety of food you can cook at once. Whether you're preparing a feast for a large family gathering or simply making dinner for two, this air fryer adapts to your needs.
Energy Efficient and Cost Effective
A substantial benefit of the Instant Vortex Plus VersaZone Air Fryer is its energy efficiency. It uses up to 80% lessenergy than a traditional electric oven, making it an eco-friendlier choice for your kitchen. In addition to being environmentally conscious, the air fryer also saves you money on your energy bills. It's a win-win situation, benefiting both your wallet and the planet.
Healthier Cooking
Health-conscious individuals will love this air fryer for its ability to cook with 95% less oil while still achieving the perfect crunch that typically comes from deep-frying. You can enjoy your favorite fried foods guilt-free, knowing they are significantly lower in fat and calories.
The Instant Vortex Plus VersaZone Air Fryer's EvenCrisp technology ensures your meals come out crispy and golden on the outside, tender on the inside - giving you the best of both worlds. From French fries to chicken wings, you can savor the taste and texture of fried foods without the unhealthy fats and oils.
Versatility at Its Best
This appliance is not merely an air fryer; it's an all-in-one cooking solution. With eight pre-set cooking functions including air fry, bake, roast, grill, reheat, dehydrate, SyncCook, and SyncFinish, the culinary possibilities are virtually limitless. From baking muffins and grilling steaks to dehydrating fruits and reheating leftovers, the Instant Vortex Plus VersaZone Air Fryer has you covered.
Quick Preheat Function
One of the most loved features of the Instant Vortex Plus VersaZone Air Fryer is its quick preheat function. It takes just a few minutes to preheat, meaning you can go from frozen to golden in record time. This feature is a real game-changer, especially for those leading busy lives who still want to enjoy freshly cooked meals.
Safety First
When it comes to cooking appliances, safety is paramount. The Vortex Plus doesn't compromise in this area, providing built-in safety features such as Overheat Protection and auto-off functionality. These features give peace of mind and enhance the overall usability of the appliance.
A Breeze to Clean
Cleanup is often a tedious part of the cooking process, but with this air fryer, it becomes hassle-free. The device includes a non-stick cooking basket, cooking tray, and divider, all of which are dishwasher safe. So you can simply pop them in your dishwasher, saving you time and effort.
Never Run Out of Recipes
The Instant Vortex Plus VersaZone Air Fryer comes with an associated app filled with a wide range of recipes specifically designed for the air fryer. Alternatively, you can scan the QR code for access to an e-book of recipes. So, whether you're a seasoned cook or new to the air fryer world, you're bound to find inspiration for your next meal.
Aesthetics and Build
No review would be complete without discussing the build and aesthetics of the appliance. This air fryer sports a sleek and modern design with a classic black finish, effortlessly complementing any kitchen decor. The digital display and touch buttons add to its sophisticated look.
Constructed with high-quality plastic and aluminum, the device promises durability and robustness. Weighing in at around 8.75 kg, it's reasonably lightweight considering its large capacity, making it easy to move around if needed.
Concluding Thoughts
In summary, the Instant Vortex Plus VersaZone Air Fryer truly lives up to its name, offering a versatile cooking experience without compromising on taste or health. Its large capacity, impressive array of features, and user-friendly design make it a worthy addition to any kitchen.
In essence, the Instant Vortex Plus VersaZone Air Fryer emerges as a frontrunner in the realm of air fryers. Its sleek design, practical features, and versatile cooking functions indeed make it a worthy investment for any home cook. Whether you're a cooking enthusiast seeking to expand your culinary repertoire or a busy individual needing quick, healthy, and hassle-free meals, this air fryer is sure to impress. Given its extensive capabilities, it offers excellent value for money, providing a fantastic cooking experience that combines convenience, versatility, and health in one compact appliance.
Whether you're a busy parent looking to whip up quick and healthy meals, a novice cook experimenting with new recipes, or an eco-conscious individual hoping to save on energy consumption, this air fryer could be an ideal choice. With the Instant Vortex Plus VersaZone Air Fryer, healthy, delicious, and convenient cooking is just a button press away.
Order yours today!
Did we convince you that the Instant Vortex Plus VersaZone Air Fryer is the greatest airfryer on the market? Than don't wait any longer and order yours today!
Wondering how versatile this airfryer is? Then check out this photo gallery!
Click here to order now! >>> Instant Vortex VersaZone 8,5L airfryer
Or click the image below: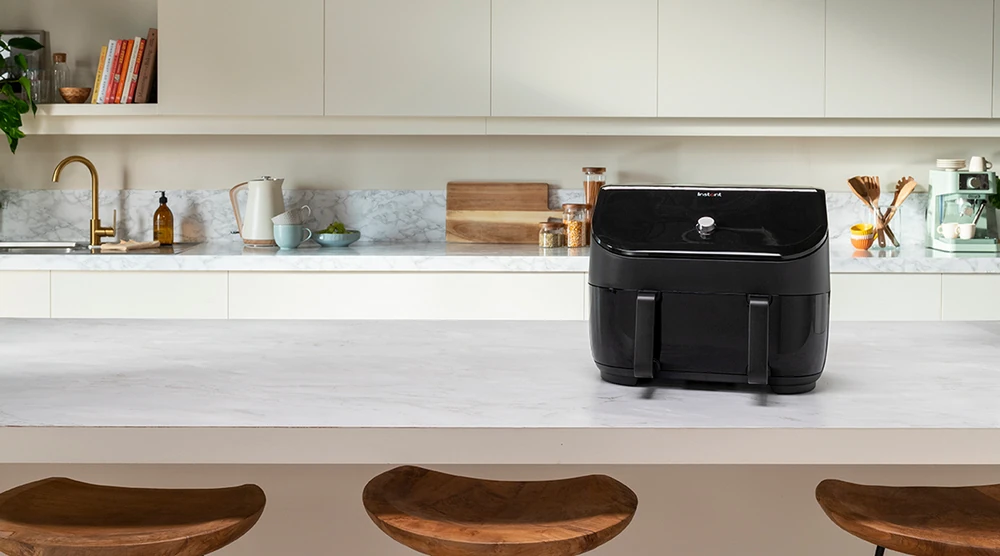 Powerblog - sign up for newsletter
Would you like more of this kind of useful information? Sign up for our newsletter for the latest news, useful tips and advice, delicious recipes, and special offers. We email at most once a week.