What is an Instant Pot?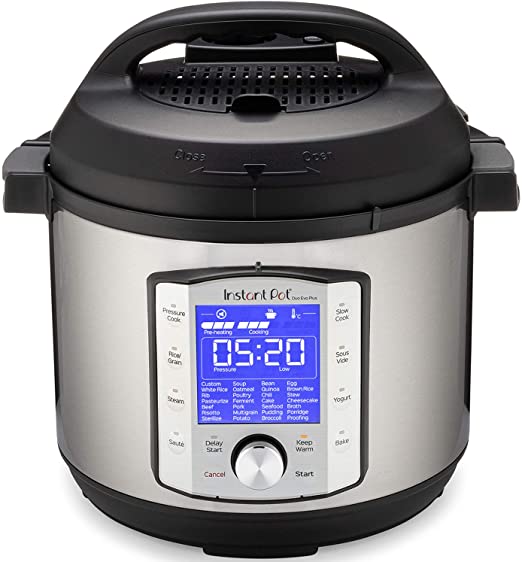 Not the pressure cooker your grandmother used to cook with in the 1980s, the Instant Pot is much more advanced and therefore safer than traditional pressure cookers (so they don't explode, and are completely safe if you use them according to the manual and maintain the parts properly).

Instant Pot pressure cookers don't explode, melt, or overheat. In addition, the Instant Pot has several safety features specifically designed to ensure that nothing but your taste buds explode when using the device.
These multicookers have integrated software that allows you to perform various cooking functions at the touch of a button for a simplified cooking experience. The main functions of these cookers are slow cooking, baking and pressure cooking. However, there are buttons that further break down the functions to help cooks perform different types of cooking.
Much more than a pressure cooker
An Instant Pot is an electric pressure cooker, but it offers so much more. It is a multi-cooker, which means it has many cooking functions. You can use your Instant Pot as a slow cooker, rice cooker, steamer, yogurt maker or frying pan. It's an all-in-one appliance, so you can brown a chicken, for example, and cook everything in the same pan. In most cases, Instant Pot meals are ready to serve in less than an hour.
The fast cooking times are due to the pressure-cooking function, which traps steam created by liquid (even liquid released from meat and vegetables), builds up pressure and works steam back into the food. You will probably use the Pressure Cook and Sauté buttons the most.
But don't confuse it with a pressure cooker on a stovetop. Unlike our grandparents' pressure cooker, this Instant Pot eliminates safety concerns with a lid that locks and stays locked until the pressure is released. Yes, you can cook a whole chicken in the Instant Pot. Families of six or less will probably be happy with the 6 liter multicooker.
10 Safety Features
All Instant Pots are made with at least 10 important safety features that are not always found on other types of cooking appliances. Several safety features are aimed at maintaining safe pressure levels when using the pressure cooker. These multicookers detect if the lid is closed properly before the pressure cooking begins. Leaks are also detected by the device in case the seal is not installed correctly. This is to prevent food from burning. You can read more about the safety of Instant Pots in this article .
High pressure = healthier!
While some people equate the high temperatures of pressure cooking with the loss of nutrients, this is the opposite of the truth. Pressure cooking allows the heat to be distributed evenly and quickly, so you don't have to submerge foods such as frozen vegetables in water. You only need just enough water to generate enough steam, and most recipes use about a cup of liquid.
Powerblog - sign up for newsletter
Would you like more of this kind of useful information? Sign up for our newsletter for the latest news, useful tips and advice, delicious recipes, and special offers. We email at most once a week.