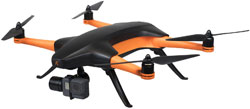 Remember all those exciting moments that you couldn't fully enjoy because you were filming?
Imagine that you are completely free to enjoy those moments and capture them perfectly on video. No pressure, no distractions, and great results. The Staaker drone with tracking function can do that! The included transmitter ensures that the Staaker always keeps an eye on you and never loses sight of you.
The Staaker follows you perfectly on all your adventures, in the car, on the bike, motorcycle or a boat, it does not matter, and you hardly have to think about it. De Staaker faithfully follows you. Anytime, anywhere!
There are no products in this section