Register a return
Wrong choice or need repair?
No problem, we will solve it for you as soon as possible. The fastest method is to register it yourself . Not a lengthy form, asking for information that we already have, to discourage you, but a simple form and the promise that we will solve it super fast. Please fill in at least the required fields below. Your e-mail address is not required because we always automatically send the confirmation to the address specified in the order. If this address is no longer available, you can indicate this under "Complaint description / information". For the fastest handling of your return or repair, we recommend that you read our return conditions carefully and follow the instructions.
Please note: never return anything before you have received a return number (via e-mail with "Agree to return") from us!
Register your return yourself (fastest method)
You don't need an account to register a return or repair!
See the images for help with the steps.
Click on "ACCOUNT" at the top right of this page
Enter your order number or email address.
Press Enter or click the arrow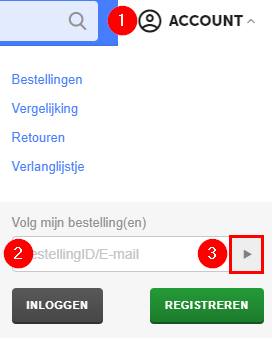 An email will be sent to your email address. Open this email
Click on the link for the order number or to view all your orders.
If necessary, open the correct order by clicking ID#.
On the order details page, click on:

Select a return reason. Please note: it is important that you make the right choice here to avoid delays. Do not opt for revocation if it concerns a defect or warranty, and vice versa. This allows our employees to send the correct instructions faster.
Select one or more products that you want to return / send for warranty.
Select the amount you are going to return.
Select the reason for your return.
Giving a reason is not mandatory but helps our employees to serve you faster and more effectively.
Press "Return request".
Your request will be sent to us and we will get back to you as soon as possible.
Note: you are currently receiving an error message (404) but your request will be sent. We are working on a solution to this problem.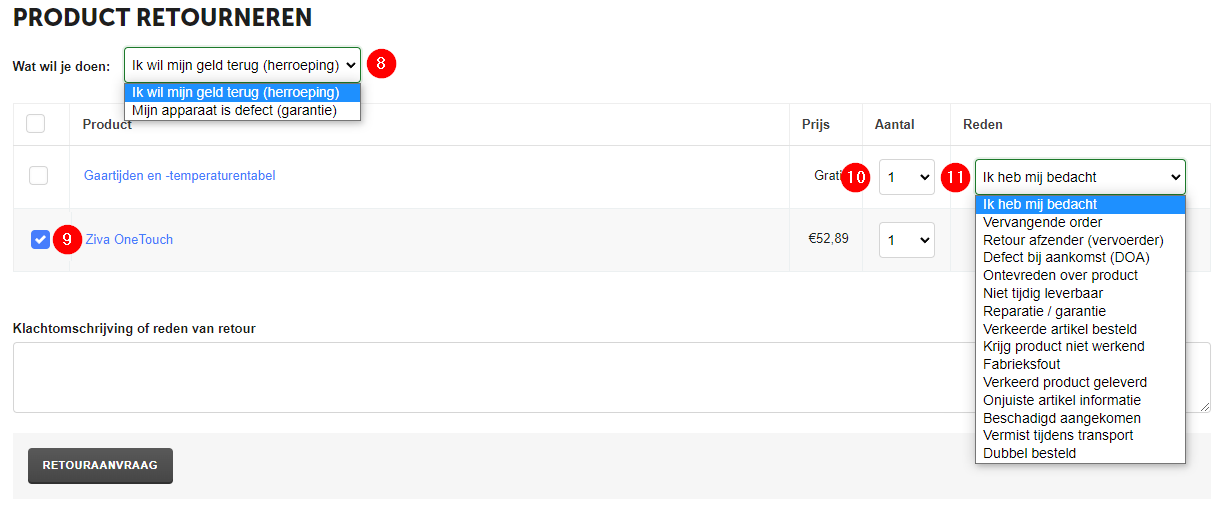 What happens after my registration?
We will process your request as soon as possible. When you have received the request within 14 days of receipt, we will send you an email stating that your request is " agree for return " with your return request number and return instructions. You can then send your package yourself via a package point of a carrier of your choice in your area. Read more about reimbursement of shipping costs here .
Please note: never return anything before you have received a return number (via e-mail with "Agree to return") from us!
Full information for a faster reply
It is important that we receive the following information from you in order to process your request quickly:
What is your order / invoice number? You will find this in the order confirmation email and at the top right of the invoice that you have received from us.

Which products do you want to return? If you want to return one product from an order with several, make sure it is clear which product it concerns.

Why do you want to return? This is not mandatory, but sometimes with a little help and information we can turn initial disappointment into satisfaction.

In case of a repair: give a clear description of the complaint. With a good description of the complaint, we can start the repair for you faster. This also regularly makes it clear what is causing the problem and we may be able to solve it immediately.
Take advantage of a Connoisseurs account!https://www.sousvidekennis.nl/images/companies/10/KENners_logo_klein.png?1544942068698" style="width: 120px; height: 52px; float: right;" />
Click here to register an account for the following benefits:
From now on, arrange your orders and returns faster in all our shops.
Have faster and more efficient access to our customer service.
Always access to all your order data and invoices.
Save a discount in all Kenners web shops .
Fill out RMA form